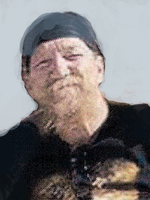 Jeff Weaver Petty
Memorial services for Jeff W. Petty, 57, of Lovington, NM will be held on Saturday, April 27, 2019 at 10:00 am at Kirby-Smith-Rogers Chapel with Bro. Chad Wease officiating. Arrangements are under the direction of Kirby-Smith-Rogers Funeral Home. Jeff was born on June 9, 1961 in Pecos, TX to James Weaver and Doris June (Teems) Petty and passed away on April 22, 2019 in Lubbock, TX. Jeff grew up mostly in Lovington and was well known for his love of motorcycles, he was considered a "motorcycle man" and was very picky about his bike. He enjoyed fishing on the Pecos River but his passion was riding his cycle. He had a good sense of humor and liked telling jokes and he loved his rescue dog, "Bandit". Jeff also enjoyed being with his friends and he loved his friend's kids as if they were his own, Lane and Hailey Devore and his great nephews: Seth Bohannon and Malachi Pando.
He is preceded in death by his father; two brothers: Gary Q Petty and James M. Petty.
Surviving him is his mother: June Petty of Lovington, NM; one son: Richard Petty of Lovington, NM; nieces and nephews: Lachanda and husband Michael Bohannon of Lovington, NM, Amanda Brumley of Lovington, NM, and Michael Petty and wife Ashley of Lovington, NM, and many friends.