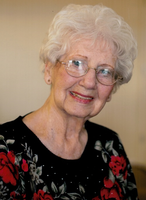 Margaret Lorene ""Lorene"" Black
Memorial services for Margaret "Lorene" Black, 95, of Lovington, NM will be held on Sunday, July 7, 2019 at 1:30 pm at Good Life Senior Living in Lovington with Mike Adams, Hospice Chaplain, officiating. Arrangements are under the direction of Kirby-Smith-Rogers Funeral Home. Mrs. Black was born on January 2, 1924 in Beckham County, Idaho to George Sherman and Mary Esther (Allen) Church and passed away on June 28, 2019 in Lovington. She came to Lovington in the "40's" from Ada, Oklahoma. She met her life companion, Stanford "Odell" Black and they were united in marriage on December 2, 1949 and have shared almost seventy years of life and love together. Lorene enjoyed sewing and embroidery work but was well- loved and well- known for her baking skills. She was an excellent baker and her family had their favorite recipes for the pies and the main dishes she prepared. Her recipes are cherished treasures for her family.
Preceding her in death were her parents; one sister: Wilma Fisher; two brothers: Allen Church and Edward Church.
Surviving her is her husband, Stanford "Odell" Black of Lovington; two children: Ron and wife Jayme Black of Lovington and Denise and husband Rick Dunlap of Lovington; one sister: Helen and husband Ralph Pollard of Roswell, NM; Grandchildren: Josh and wife Hollan Black, Chay and husband Erik Hagedoorn, Ty and wife Jaymie Dunlap, Knicole Hardin, Ashley and husband Chris McCart and also four great-grandchildren: Lacy, Harper Rose, Taelyr and Krystopher.
Condolences may be sent to www.kirbysmithrogers.com.